Two Spirits - One Song
Music From A Wedding - $15
Actually from our OWN wedding - Sandy and me that is... October 17th, 2009!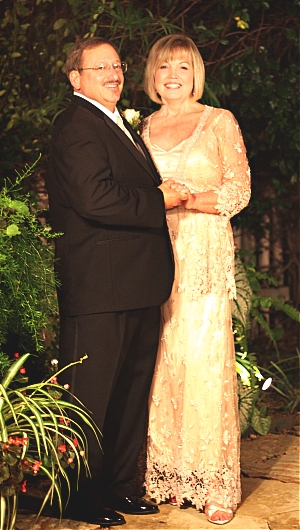 When we decided to get married back in the spring, Sandy suggested that I create some of the music for the wedding. No problem! Well that endeavour turned into quite the creation in the long run. What we intended was just a few songs, maybe, that I recorded myself, coupled with a bunch of tunes that we liked that we could find and download to create background music for before and after the ceremony.
As I got into the creation process I got more and more excited about what I was hearing and I began to feel I could get it all done with my guitars and sound the way we wanted it to sound!
Through the summer and into the fall with the date drawing closer I finished up an hour and twenty minutes of music with three, four and even seven guitar and bass lines blended into what you hear today!
The resulting tracks, which were initially intended to be just for the wedding, turned into something we shared with all of our guests and now we're making it available to everyone!
"Two Spirits" is unlike anything I've ever done. Not even close to the blues I'm accustomed to, but the style does dig back into my past when I was first learning guitar and the music that influenced me early on! Some of the music from my "formative years" shows up here and it brings out the picking and chord techniques that I built my playing upon the rest of my life!
If you prefer some "easy listening" I think you're going to like this!
As Sandy keeps telling me: "You out did yourself on this one!"
Check out the MP3 clips below and order yours!
Click here to E-mail me - tell me you want one (or two or three...)
Then go to PayPal to do the business.
You'll need go to the "Send Money" link and copy and paste my e-mail address for the recipient.
It's all down hill from there!
By the way - the $15 total includes shipping!
Standing Right Next To Me - Karla Bonoff You Send Me - Sam Cooke
Only Time - Enya In My Life - The Beatles
Gymnopedie - Satié Late Winter - John Denver
Longer - Dan Fogleberg The Water Is Wide - Traditional
How Sweet It Is - Marvin Gaye The Wedding Song - Peter, Paul & Mary
What A Wonderful World - Louis Armstrong Samba Pa Ti - Santana
Heartstrings - Jeff Guerin You've Got A Friend - Carole King
Whiter Shade Of Pale - Procol Harum Just Another Mood - Jeff Guerin
Wonderful Tonight - Eric Clapton There Are No Words - Jeff Guerin
Who Knows - Judy Collins