Jeff Guerin - Pure
The Acoustic Blues CD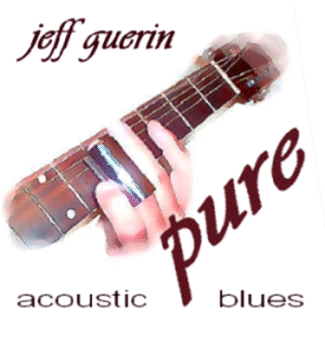 Well!!! It's done! #2!!! And it's ready for all of you to enjoy!
It took a lot of hours and late nights once again but I tried to get the best representation of what you get if you were to come and see me on a solo gig or just sitting around, pickin' and wailin' on the back porch!
I'm more than pleased - I'm proud to have this "latest compilation album" of old style, delta/country blues for ya'll to listen to.
Some of the songs are very new, that I just wrote in the last couple of months all the way back to one tune that I've been doing for nigh on thirty years!!!
I've mentioned elsewhere that if you liked the Ain't Nothin' To It CD, you'll certainly get a kick out of this one... If you didn't like Ain't Nothin' To It - you'll love this one!!!
Here! Give a listen to some of the clips and see what you like. The quality isn't that of the actual CD, but you can get the gist!
Wail If You Like The Blues Got My Walkin' Shoes On
The Bad I Got Middle Aged Blues
Slow Rain a Fallin' Oh Well, What'cha Gonna Do
The Good Thing You Had How Long Babe
She Ain't Receivin' Last Song Blues
Down The Blaylock
Overall, this CD is pretty laid back... Jeez, imagine that! That I'd do something that was laid back... Just good guitar blues. But there's some "toe-tappers", as Sandy calls them, on here too. It's just not the power blues that you might expect from me and the band.
The reason I called it "Pure" is that it simply is. Just one or two acoustics and me. I did a lot with the old slide on here too and combined the straight up acoustic, that gorgeous Dean of mine,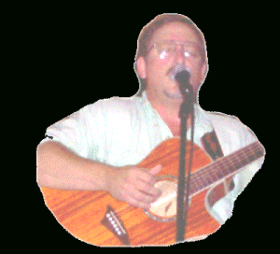 with the slide on the songs that lended themselves to it. The end result is very nice. You can really get it on Walkin' Shoes and She Ain't Receivin'.
Then there's the, so far, very popular Wail, my tribute to the mysteries of Robert Johnson which I wrote last year before our first drummer, Larry Johnson, passed away. So the line about: "There's the ghost of a man named Johnson..." wasn't referring to Larry. Anyway, you should hear the that one with the band - kicker! Maybe we'll do a live CD next! But it's quite nice with just the acoustic, a whole different attitude, pretty much like the entire CD.
The "really old song" is Down The Blaylock, an instrumental that I first developed back in the mid 70's, but more recently adapted it to this current slide version. It was a great way to finish the CD off I thought as it is my "signature" song and I always finish off a solo gig with it. When I play Blaylock, it means I'm done for the night! It's got a blend of blues and bluegrass, and is rather unique. Does anybody remember Duane Allman's "Little Martha"???
The Bad I Got is kind of cool with a real nice groove. And I think everyone (my age) will appreciate the Middle Aged Blues, inspired after I gave a call to old buddy, Pete Nasser, on his birthday this summer, and we realized how old we actually were! Oh! The pain, the pain! And for those of us cajuns - I'm not referring to French Bread, you know!
It's a fun album, with argueably, some of my best tunes on it. So if you want to kick back and not get beaten about the head with music, this one's for you!
Again! A mere $12 and it'll be in the mail!
You can send a $12 check to:
Jeff Guerin
1480 North Maple #21
Murfreesboro, AR 71958
or use my Pay Pal account by clicking anywhere in the words you are currently reading!
You'll need to know my e-mail address for the Pay Pal...
It's jatltlmo@iocc.com
By golly! Go ahead and e-mail me and get'cha one!
Thanks for the interest and/or support!
870-285-2807
e-mail